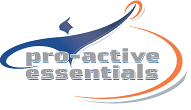 Pro-Active Essentials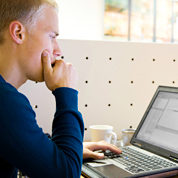 Of the three selected services we offer, Pro-Active Essentials is our entry level managed service. As the name suggests it is designed to provide support for your business by pro-actively managing the essential aspects of your computer systems and network. We created this service to ensure that the fundamental aspects of maintenance are dealt with whilst keeping the costs to the business as low as possible. The components included at this level are:
Microsoft operating systems and software patching
Malware protection support
Backup and restore support
Basic real time server health monitoring
Internet connection and email traffic monitoring
Basic reporting services
In addition, IT support can quickly and easily be requested through our support ticketing system. It ensures your business IT issues are dealt with in a timely and orderly fashion by a team of professional IT support personnel.
Pro-Active Essentials is ideal for businesses that:
Donít have access to IT professional expertise in-house
Want to supplement their in-house IT team freeing them to concentrate on higher level IT issues
Change and add to their system infrequently
This support service is ideal for businesses with up to 10 people who need to keep their costs down but want access to professional IT support personnel. It is also a great complement to larger organisations with in-house IT support who can concentrate on the higher level IT issues secure in the knowledge that the basics are being dealt with.
If your business needs support for other issues outside of this basic scope then there are two ways of attaining this:
Purchase additional consultancy, support and services when needed at the support contract rates, or
Consider the Pro-Active Essentials Plus support service
Additional Services:
We offer some additional services including Disaster Recovery, Business Continuity Planning and Data Backup. Call us today to find out more.

How healthy is your server and network? Do you know?
How often do you check?
What are your IT pain points?
How would you like some free advice?